C.K.Junior College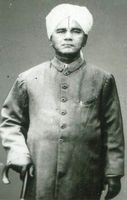 Before 1944, secondary education was not in reach in Mangalagiri. To cater the needs of student community, Sri Damarla Venkata Bhavannarayana had taken initiative and District Local Board President Sri Pamulapati Venkata Krishnaiah helped to start a High school here. This was a turning point for development of education in Mangalagiri. The chief donor Sri Chintakrindi Kanakaiah has donated Rs.26,000 on whose name the school was started. Other main donors were Sri Pregada Anjaiah brothers Rs.4,000, Sri Venigalla Thathaiah Rs.4,000, Sri Damarla Venkata Bhavannarayana Rs.3,000, Sri Janjanam Ramaswamy Rs.2,000. The high school was named after the Chief donor Sri Chintakrindi Kanakaiah. It was registered under social organizations with the register number 18/1944.

The first organising committee of this institution formed with Sri Chintakrindi Kanakaiah (president), Sri Venigalla Thathaiah (vice-president), Sri Thadiparthi Srikantam (Secretarty and Correspondent), and Sri Pregada Balanagu, Sri Damarla Venkata Bhava Narayana, Sri Damarla Chinapullaiah, Sri Janjanam Ramaswamy, Sri Janjanam Subbaiah, Sri Venigalla Narasimham, Sri Vudatha Veeraswamy, Sri Janjanam Veeraswamy, Sri Ramanadham Mallaiah, Sri Goli Thandraiah, Sri Isunuri Kotiratnam, and Sri Damarla Rama Kantharao (Members of the Executive Committee).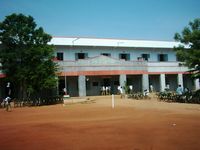 On 29-8-1944, C.K.High School was inaugurated by the then Director of Education Sir R.M.Statam. Initially, this school was running at the present kalyana mantapam place in Old Mangalagiri. After that, they changed to the present place. In 1947-48, the first batch of SSLC completed their course. In 1972-73, this is upgraded to Junior College. In 1982, a separate Girls High School was started to cater the needs of the girl students, in the name C.K.Girls high school.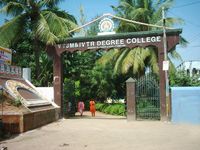 In 1977, a Degree college was started by the same management, and it was another milestone in the educational history of Mangalagiri. To start degree college, Sri Vemulapalli Srikrishna (MLA of Mangalagiri), and Sri Siramdasu Lakshmi Narayana, I.A.S., had taken initiative, and by their efforts it started without any corpus fund. It is named as Sri Venigalla Thathaiah and Janjanam Mangaladri Degree College. On 30-8-1977, Chief minister at that time Sri Jalagam Vengalarao inaugurated the degree college. In 1996, B.Sc Computers course was introduced with the donation of Sri Isumuri Venkata Thatha Rao. Recognising the same, the college name had been changed to VTJM & IVTR Degree College.

Every year, nearly 4000 students are being imparted education in these institutions. Many number of students of these institutions reached great heights in their career and some of them are servinig as Teachers and representing the Administrative Committee of these institutions. At present Sri Tadiparthi Ramamohan Rao and Pragada Adi Satyanarayana are holding the responsibilities as President and Secretary/Correspondent respectively to the C.K.Junior College Committee. Sri I.V.Tata Rao and Dr. Goli Ramamohana Rao are holding the posts of President and Secretary respectively to the governing body of the Degree College. Sri G.B.Franklin is the incharge principle of the degree college, and Sri V.Anjaneyulu is the incharge principle of the junior college. Sri V.Vijaya Lakshmi is the incharge Head Mistress of C.K.Girls high school.