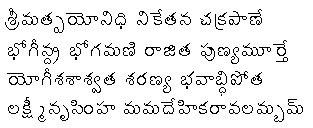 Mangalagiri is situated between Vijayawada and Guntur on Chennai-Kolkata national highway No.5. It is at 19 kilometres from Guntur, and 12 kilometres from Vijayawada. It is at an altitude of 30 meters above the sea level. Latitude is 16.44 degrees North, and longitude is 80.56 degrees East.

In the east-west direction, the main parts of Mangalagiri town are Bypass Road, Main Bajaar, Old Grand trunk road, and Railway station. In the North-South direction, the main parts are Old Mangalagiri, New Mangalagiri, and Kotha Peta. The boundaries for Mangalagiri town are --- East - Atmakuru village, West - Navuluru village and Bapuji Nagar, North - Hill and Over bridge and South - Chinakakani village.

In 2001, the Municipal town population was enumerated as 61,981. Including floating population, it counts to one lakh. The area of the Town is 10.49 sq.km. There are 32 municipal wards, and 43,724 voters.

The main occupation in the town is Hand-loom weaving. Nearly 50% of the population dependent on this cottage industry only. Because of the Hand-loom dress material produced in the town, Mangalagiri is placed in the world map.

Mangalagiri is a pilgrim centre. There is a temple on the hill dedicated to Lord Panakala Narasimha Swamy. Here, jaggery water is offered to the lord by the devotees. It is said in the scriptures that, the lord is being worshiped since Satya Yuga (The first of the four yugas). In the down hill there is another temple dedicated to Lakshmi Narasimha Swamy. It is said that, Yudhishtira (Dharmaraju, the eldest of the Pandavas) installed the main deity in this temple. The temple has a very tall tower with beautiful sculpture which has 11 stairs. It was constructed by Raja Vasireddi Venkatadri Naidu, during the years 1807-09.

Around Mangalagiri, the places of tourist interest are Chinna Jeeyar ashram in Seeta Nagaram, Vundavalli Caves, Bhavani Island, Kanakadurga temple in Vijayawada direction and Jain Temple, Uppalapadu Birds sanctuary, Amaravati in Guntur direction.